High Voltage Switches and Solid State Relays
Behlke Distributor
Behlke high voltage switches and solid state relays are available in the USA from High Voltage Connection. Please contact us or request a quote. We can also provide application and selection assistance.
Behlke Electronics
Behlke manufactures fast, high voltage, electronic solid-state switches and relays. They are available in single pole configurations, both SPST and SPDT, i.e., push-pull. The product line also includes pulsers and probes.
They can be used to create pulses or an individual impulse for such applications as pulsed lasers, or as a crowbar to discharge energized circuits. Other applications associated with solid-state switches include: q-switches, pockels cell, Thyratrons, Krytrons, Ignitrons and modulators.  
Behlke High Voltage Switches and Solid State Relays
High Voltage Solid State Relays 
Cooling solutions for Behlke switches
Q-Switch Drivers (See bottom of page and also High Voltage Switches)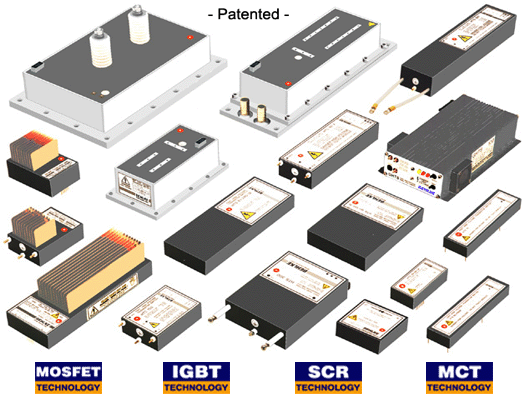 Sample Products:
Model HTS 31 is a general purpose, 3kV, 30A, 7ns variable on-time fast high voltage switch, which can also be used as a solid state relay. Higher voltage and higher current switches are available. Model HTS 160-01 is a 16kV, 15A, 15ns switch. Another model, HTS 61-40 is a 6kV, 400A, 10ns high speed switch. For push-pull applications, the HTS 61-01-GSM is an excellent choice. For a laboratory pulser version, please consider the GHTS 60 A.